Regular price
$262.00 CAD
Regular price
Sale price
$262.00 CAD
Unit price
per
Sale
Sold out
The Original & World's First Blue Light Blocking Glasses that provide 3-in-1 Day & Night Protection
Made with innovative materials and interchangeable clip-on system using less resources than a day and night pair.
Australian designed & owned - supporting small family operated businesses
View full details
DETAILS

• Premium Bio-Acetate frames 100% biodegradable and compostable

• Superior Barrel Hinges

• Scratch resistant lenses

• Size - 48mm Eye/ 21mm Bridge/ 145mm Temples 

• Unisex - medium/large - Suitable to most face shapes (silicon nose pads and ear grips included for smaller customers PLEASE NOTE IN CHECKOUT)

INCLUDED

• Clear base blue blocking lens (For daytime screen use with minimal colour distortion - blocks 50% of blue light 380nm - 420nm (100% of blue-violet light most damaging to the retina)

• Yellow DAY clip-on (For optimal day use, light sensitivity, eyestrain and migraines - blocks 100% of blue and blue-violet light (380nm - 455nm)

• Red NIGHT clip-on (For optimal night use, helps melatonin release for sleep, lower cortisol - blocks 100% of blue light and green light up to 550nm)

• Microfiber Lens Cloth made from recycled plastic bottles and naturally dyed.

• Handmade Hemp and Organic Cotton Carry Case
When to Use Each Lens
Clear - Computer Glasses

Ideally worn just at daytime and for light screen time or minimal artificial lighting environment or when you need minimal colour disruption.

Yellow - Optimal Day Clip

Ideal for daytime prolonged screen use like school or office work and very harsh artificial lighting environments or if you're light sensitive or suffer seasonal affective disorder.

Red - Sleep Clip

Ideally for night time or at least 2-3hrs before bed or after the sun goes down when exposed to any artificial light from overhead, screens etc.. to lower cortisol and release melatonin to sleep better.

Note - if working nights it can be worn when you get home regardless of time to also benefit
Customer Reviews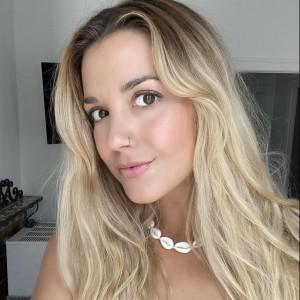 NT
21/04/2022
Nicole T.

Canada
The best blue light blockers
They make it super convenient to change from day time to mid day to night time blue light blockers. This way I can confidently do work any time of day without having the same negative affects on my sleep and eye health. The glasses are also amazing quality and well worth the price! Thank you :)
13/02/2022
Kerri P.

United States
Love these glasses
These glasses are wonderful. I'm on a holistic journey and I'm learning that it's important to take care of your eyes. These glasses fit great. I love the style. I like that I have the different lenses for the different times of the day. I'm not used to wearing glasses however, it's been an easy transition so far. I wear them most of the day especially when I'm in front of the computer working and using my phone.
23/12/2021
Deirdre M.

United States
Amazing product
We have both already noticed a difference in our sleep quality. I love the versatility and multiple lenses on such a cute frame. Most definitely will be getting more for the rest of our family.
24/11/2021
thomas g.

Norway
Fantastic glasses
I received the glasses and used them straight away. So excited! Comes with different lenses, easy to switch between them, to different times of the day and evening. Handy bags and some extra accesories! Very nice touch also with the personal greeting you guys made!
08/09/2021
Jordan M.

United States
The best blue blockers ever!
I got these for my fiancée, who has tried many different blue blockers, and she loves her Barkley's more than any of her previous glasses combined. I am stoked to get mine!